Home > SUITE > Visiting Doctor's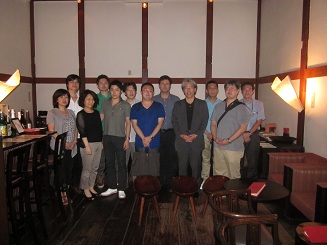 Nikolas Eleftheriadis, M.D. (Nikos) Gastroenterologist, Greece, Visiting doctor for almost one year.

His major purpose of visit is to learn Japanese system of detection and treatment for early stage GI cancer (NBI magnification endoscopy, EMR, ESD and POEM). He aggressively joins many projects, spending his time from early morning until mid- night for the procedure of ESD. He wrote some excellent English papers during his stay.
Even now he often comes back to Yokohama and joins clinical activities. He is a person of noble character, and loved by everybody in our hospital. He got a prize of 1st Honorary Member of SUITE.

First month training in SUITE at Showa University, Northern Yokohama Hospital, A "Rendez-vous" With the World Live History of Modern and Future Gastroenterology Nikolas Eleftheriadis, M.D. Gastroenterologist Aristotles' University of Thessaloniki, Greece It was in June 2006, during the "European Gastroenterology and Endotherapy Workshop" held in Bruxelles-Belgium, with more than one-thousand participants around the Globe, when an interesting session about possible application of Japanese classification of early colon cancer in the West, the world-wide known as "Kudo's classification", excited me for the in depth Japanese approach of GI diseases. Some years later in 2008, during the "Advanced Course of Interventional Digestive Endoscopy Techniques, IRCAD- EITS", held in Strasburg-France, another exciting lecture about new techniques for endoscopic removal of early GI cancer, EMR-C and ESD, given by a Japanese pioneer expert, Prof. Inoue, excited me again for second time. It was then that I wished to could learn these advanced endoscopic techniques and to be trained according to the Japanese way, although at that time such a possibility was only a dream. 
However, imagination is far beyond the reality and some years later, an unbelievable positive answer arrived to my e-mail in response to my risky application for the possibility to follow a training program in the World-famous International Digestive Disease Center, Northern Yokohama Hospital, Japan. A long flight from Thessaloniki-Greece to Frankfurt, then from Frankfurt to Narita airport in Tokyo brought me to a hotel at the opposite site of the Northern Yokohama Hospital. From that moment, numerous exciting "shocks" followed during my training at Yokohama University Hospital, alike the Japanese post-earthquake sequences.
Prof. Kudo performed numerous painless colonoscopies, without sedation, only during an afternoon, while describing in detail and immediately classifying NBI findings of colonic lesions, made real-time differential diagnosis a reality. The practical use of "passing bending" in passing sigmoid loops, detailed described by Prof. Kudo, clarified how quick and painless colonoscopy is possible and let me understand the three-dimensional approach of the GI tract. Endocytoscopy was also used upon indication, for further evaluation of superficial ambiguous lesions, differentiating malignant from benign lesions, made in-vivo "optic biopsy" possible. Endocytoscopy, was also used in a daily practice, during upper digestiveendoscopy as well.
Before the end of the very first week, I showed how useful was NBI magnifying endoscopy for real-time diagnosis of superficial lesions of pharynx, esophagus, stomach, colon and duodenum, during routine digestive endoscopy. NBI magnifying endoscopy in combination with conventional white light endoscopy and chromo-endoscopy, was used, not only as useful diagnostic tool in order to identify early GI lesions, but moreover as an absolutely necessary tool for final treatment decision (endoscopic v/s surgical) and exact tumor border detection just before ESD incase of endoscopic treatment.
Advanced endoscopic procedures, EMR-C for gastric or esophageal lesions, as wellas ESD for esophageal, gastric and colon superficial malignant lesions, were routinely performed in endoscopy department, under conscious sedation. More advanced endoscopic rejections such as duodenal and even pharyngeal ESD, were performedin the operation room by gastroenterologists.
The detailed prescription of malignant lesions was not a "botanical hobby" of Japanese endoscopists, as it is stated in the Paris classification of early GI lesions, but of great clinical importance, with practical daily use, in order to select patients with early GI malignancies who might benefited from endoscopical approach (ESD) and exclude patients with high risk of lymph node metastases who are candidates for surgery.
Based on NBI findings of microvasculature and mucosal microsurface pattern, the endoscopist was able to predict with accuracy on real-time, the depth of the tumor invasion, which is extremely important for treatment decisions. The clinical application of IPCL pattern classification for early esophageal squamous cell cancer, (IPCL classification introduced by Prof. Inoue), irregular mucosal microsurface pattern and microvasculature for early gastric cancer and Kudo's classification for colon early neoplasia, in evaluating early GI lesions, clarified the significance of this strategy in clinical practice.
During the second week of my training the 21st Japanese Congress of IIc early colon cancer took place, an extremely educational and practical meeting with oral presentations and discussions between gastroenterologists and Pathologists. Although it was in Japanese endoscopic images and a kind colleague translated for me, made this congress very interesting for me.
Finally, the respect, enthusiasm, patience, kindness and modesty of all the members of the department, made me feeling home, for the very first moment I arrivedat the SUITE. Meeting the leaders and pioneers of various significant areas of modern Gastroenterology in their own place, working with their team, was one of the most exciting scientific experiences I have ever had.