Visiting Doctor's Report
Aung Thet Oo (Myanmar)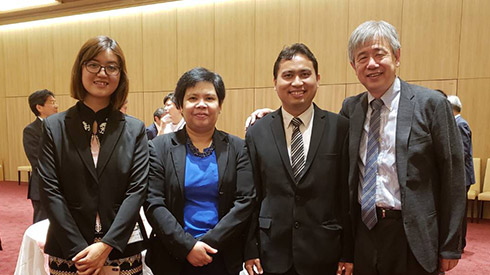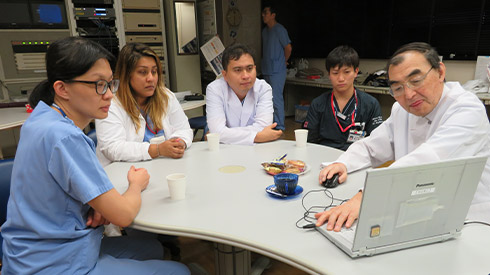 Introduction of yourself
My name is Aung Thet Oo. I am a general surgeon graduated from University of Medicine (Mandalay), Myanmar. My career inspiration consist of acquiring knowledge and advanced skills in minimally invasive surgical procedures that would assist me in pursuing a medical career as a laparoscopic surgeon.
Motives to come to SUITE
It is well-known that Japan has achieved the best survival rate of gastric cancer all over the world. According to the literature and cancer statistics, there is a decresing trend in incidence of colorectal cancer in Japan. So I have decided to apply for fellowship training in Japan.In Japan, Showa University International Training Center for Endoscopy and Endoscopic surgery (SUITE) is a famous specialized center in endoscopy training with well-organized fellowship program allowing the trainees to study and get experiences on various procedures including chromoendoscopy, magnifying endoscopy, pit pattern (Kudo's classification), Narrow Band Imaging (NBI), endocytoscopy, ERCP, open surgeries, and laparoscopic surgeries.Among the wide spectrum of laparoscopic surgical procedures, I have a special interest in the laparoscopic surgical management of gastrointestinal cancers. I would like to expand my knowledge and improve my laparoscopic surgical skills and so I choose Showa University International Training Center for Endoscopy and Endoscopic Surgery for fellowship training.
Impression of SUITE
Showa University International Training center for Endoscopy and endoscopic surgery (SUITE) is one of the excellent international training centers for endoscopy and endoscopic surgery collaborating with Digestive Disease Center of Showa University Northern Yokohama Hospital. SUITE is a high volume endoscopic center performing various kinds of endoscopic procedures for screening, diagnosis, treatment and surveillance of gastrointestinal diseases.
It is very auspicious and lucky for me to meet with the world's famous endoscopist, Prof.Kudo. I can observe his painless colonoscopic skills and attend his valuable lectures. Prof. Kudo aslo explains endocytoscopy with artifical intelligence, which is the latest fantastic technology capable of distinguishing between neoplastic and non-neoplastic polyps in real time. This technique is so amazing that endoscopists can see living cancer tissues in vivo. I am also impressed about the skillfullness of endoscopists as they can diagnose invasive cancers accurately even in small 5mm colonic poylps. I am very envious of young doctors in SUITE for their excellent ability of doing complex endoscopic procedures in the daliy clinical practice.
On every Tuesday, it is quite beneficial for me to attend morning conference where I can see the enthusiastic work of clinicians in the research and aslo good co-operation between the endoscopists and the surgical team.
One of my great apportunities during the training period is working and learning under the supervision of Prof. Ishida. He is a very kind-hearted and skillful surgeon with an interest of teaching and training not only resident surgeons but also me. I had so much precious time to learn challenging laparoscopic procedures, to study how to prepare specimen after operation and to discuss treatment guidelines and protocols for many gastrointestinal pathology. The other remarkable findings are proficiency and competency of young surgeons in performing the advanced surgical procedures and their admirable team work.
Actually, my fellowship training period is too short and I wish I could study longer if I had a chance to come back again. This training period will be an unforgettable memory for me. In the future, I would like to encourage my colleagues from Myanmar to apply for fellowship training at SUITE to get wonderful experience and advanced training.