Visiting Doctor's Report
Fatma Adel Mohamed Mourad Abozeid (Egypt)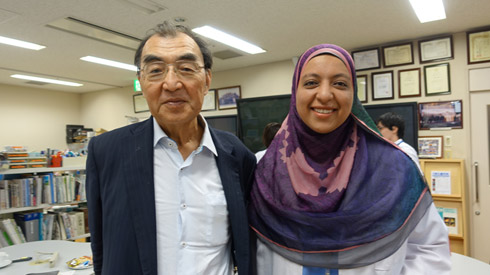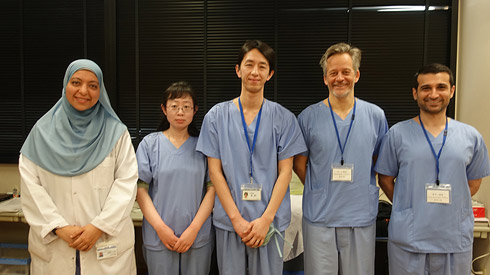 Introduction of yourself
My name is Fatma Adel Mohamed Mourad Abozeid and I am gastroenterologist and endoscopist, I work as Specialist doctor, and my position is lecturer of hepatology and gastroenterology in Mansoura university, Egypt.
I can perform a list of upper gastroscopy (diagnosis, argon photocoagulation, biopsy, sclerotherapy and band ligation), around 50 cases / week; independently sigmoidoscopy and colonoscopy (diagnosis, biopsy),around 5 cases/ week; ERCP and EUS (diagnosis and intervention).
Motives to come to SUITE
I have planned to come to Showa University International Training Center for Endoscopy and Endoscopic surgery (SUITE) to improve my knowledge in high definition endoscopy and magnification endoscopy and also to learn about therapeutic procedures like endoscopic mucosal resection (EMR) and endoscopic submucosal dissection (ESD). I intended to gain more experience in endocytoscopy, and artificial intelligence application in advanced endoscopy. I have known that Japanese doctors are famous all around the world when the subject is endoscopy and the quality of image, so I decided to apply for such important fellowship that was kindly available by Showa University in its highly specialized center of endoscopy through this fellowship program.
Impression of SUITE
During my fellowship, I had the opportunity to see many complex endoscopic procedures. I have learned new technics of detection and removing colonic lesions during colonoscopy. The Showa University Northern Yokohama Hospital has a great volume of endoscopic procedures and has in its medical staff some famous worldwide endocopists as professor Kudo. I had been welcomed in the department and well instructed about the service routine and rules. The doctors and residents were friendly as the rest of the endoscopy team as well as the nurses and the secretary members. It was a great experience to learn from these excellent doctors not only medicine, but also the way of respecting patients. I was very lucky for spending this time next to these brilliant physicians. My experience was outstanding and exceptional! Lastly, I would like to thank the Showa University for the opportunity to become a better professional in my country. Nowadays there aren't any specialized colonoscopists in EMR and ESD in my region, so I would like to became a reference in interventionist colonoscopy. Of course I will also share some of the Japanese learnings with my colleges.