Visiting Doctor's Report
Kenji Madriaga Sato (Philippines)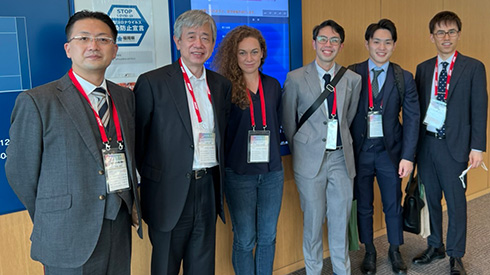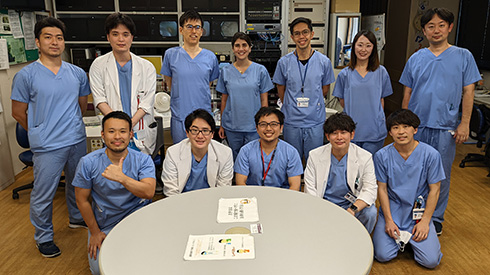 Introduction of yourself
My name is Kenji Sato, a board-certified internist, gastroenterologist and endoscopist from the Philippines. I am currently an active consultant in one of the leading hospitals in the country, Cardinal Santos Medical Center. Since my fellowship training in Gastroenterology, I have always wanted to focus on endoscopic diagnosis and luminal endoscopic treatment; specifically, Image Enhanced Endoscopy (IEE) like Narrow Band Imaging (NBI)-magnification, Chromoendoscopy, and endoscopic resection such as Endoscopic Mucosal Resection (EMR) and Endoscopic Submucosal Dissection (ESD).
Motives to come to SUITE
Having been exposed to different conferences and live demonstrations locally and abroad, I knew that the best place to study in my field of interest would be in Japan. And Showa University International Training Center for Endoscopy and Endoscopic Surgery (SUITE), a world-renowned center that specializes on endoscopy-oriented diagnosis and treatment of gastrointestinal disease, is among the top-tier training hospitals in the nation.
Being one of the pioneers in this domain, the center boasts of various aspects of endoscopic-based diagnosis, such as NBI magnifying diagnosis, Chromoendoscopy, Pit pattern diagnosis, Endocytoscopy, Artificial Intelligence (AI), and endoscopic treatment like EMR, ESD, ERCP, EUS, LECS and the like. Given these possible opportunities, I want nothing more than to be trained under this distinguished institution.
Impression of SUITE
In my one year of training in SUITE, everything that I wanted to learn from the beginning even exceeded my expectations. Not only did I study about diagnosis and treatment of early esophageal, gastric and colorectal cancers, but I had an in-depth look of the process on how to carefully dissect a disease entity; from performing screening endoscopies (using IEE, chromoendoscopy, endocytoscopy, AI), to a well-performed endoscopic resection leading up to the histopathological discussion of the resected lesion, I can honestly see why Digestive Disease Center of Showa University Northern Yokohama Hospital is considered as one of the 20 World Endoscopy Organization (WEO) Centers of Excellence. The level of intricacy and attention to detail with each case is really inspiring not only for young endoscopists like myself but for patients as well.
Daily rounds lead by team leaders Dr. Shingo Matsudaira, Dr. Yasaharu Maeda, Dr. Tatsuya Sakurai and Dr. Yuta Sato were informative and enjoyable. I was able to see how they interact with each patients, respectfully explaining to them the status of their health, and how they work well with the efficient nurses and staff in the ward and also in the endoscopy unit.
I had the privileged to gain knowledge from Professor Shin-ei Kudo. His passion for endoscopic diagnosis and depressed colorectal cancer is outstanding. Our supervisor, Professor Fumio Ishida, is very kind and understanding; always making sure we are learning and at the same time enjoying ourselves. I have had the opportunity to learn from Dr. Hideyuki Miyachi, Dr. Kunihiko Wakamura, and Dr. Masashi Misawa during weekly conferences on the diagnosis of early gastric and colorectal cancer, as well the use of Endocytoscopy and Artificial Intelligence which allows us to observe living cancer tissue in vivo.
One of my goals for coming here was to improve my basic endoscopic skills and gain experience on how to perform ESD. This would not be possible without the team, lead by Dr. Takemasa Hayashi, who tirelessly teach and guide me throughout this challenging process. I have learned that these skills require time and a great deal of practice but I am glad that I have improved and was able to perform ESDs under their supervision.
Overall, my experience in this institution has not only enriched my knowledge and skills but also changed who I am, hopefully, for the better. I am beyond grateful to everyone in Showa University Northern Yokohama Hospital for, without a doubt, a once in a lifetime experience that I will never forget.